Welcome to the new paradigm of video, you are not watching them alone now, but with all these bullet comments.
Starting from a place only for uploading Japanese anime, Bilibili has now become the most famous and popular video sharing website in China. In 2015, "B site" has over 50 million users, with 75% of them under the age of 24. Some of its feature originates from YouTube, like everyone can upload their own videos, and everyone can write comments for them. This is where Bilibili stands out: bullet comments.
Bullet comment is a kind of comments that appears in the video instead of the commentary. It is displayed as streams of moving subtitles, like bullets, that overlaid on the video playback screen. Since this subtitle are available to all viewers, it makes them feel as if they are not watching videos by alone, but instead with each other in a real-time chatroom.
There is actually one thing to notice: Bilibili is not the first video website that apply bullet comments. In fact, the creator Xu Yi is an AcFun (the first video website that has bullet comments in China) user, and he build Bilibili because he wants a better website. Although AcFun starts before Bilibili, it still loses the competition due to various issues (commercial mainly). However, even AcFun borrow the idea of bullet comment from a Japanese video website called Niconico. Then why is Bilibili the only one got listed on the NASDAQ on 28 March 2018? That is another question.
One can say it is the very feature of the bullet comment that make Bilibili rich and famous, but why don't other video website, like YouTube for example, incorporate this system in order to revolutionize audiences' video experience?
From this google extension we know there is technology available to put bullet comments into videos, but it is not very popular, why is that?
The first reason would be language barriers: Niconico is almost exclusively Japanese, and Bilibili is almost exclusively Chinese. But for website like YouTube, its audience does not only come from English speaking countries. It would be meaningless to see a bunch of bullet comments that are you even have no idea what language they speak. However, this is easy to manage: simply by adding a language tag every time when users are sending a bullet comment will solve this problem, and viewers can select what language of bullet comment they want to see. So, bullet comment does not make its way through American even under this kind of condition, what does it imply?
Then we will have to talk about entropy. Not the one that pairs up with enthalpy in thermodynamics, but the one in the field of communication. Basically, it is a way to quantify information. From this passage (https://zhuanlan.zhihu.com/p/89958871, and it is in Chinese) we know that a single English letter has 3.9 level of information entropy. That may seem like a lot, but a single Chinese character contains 9.56 level of information entropy. That means for the same number of English letters and Chinese characters, the latter one will contain as much as 3 times the information as the former one does. In terms of actual bullet comments, a sentence like "That is actually really funny" in English will be "那挺好笑" in Chinese, just look at the length between these two lines we can see the difference levels of entropy.
A third point to pick up is how we deal with information. We employ our working memory when reading some text. Working memory is a kind of short-term memory that specifically deals with decision-making, immediate behavior, and linguistic understanding. Here we are going to talk about the last point. Research has shown that changing some letters within a word will not influence the speed to comprehend it that much, like the following sentence "You meka miollins of desicions taht maen nothing." But changing the words within a sentence can make it completely meaningless. For instance, if we change the sentence into "You make of decisions millions nothing that mean." That is the main difference between phonogram language (like English) and logogram language (like Chinese). For Chinese, even switching the characters and words will not hamper the understanding speed that much, and it is shown in the following picture: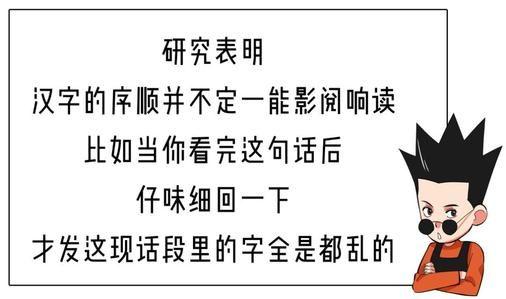 And I am going to put one of my own Bilibili video that I've uploaded to the website. Although there is nearly no bullet comment on it because it is simple recording of one of the Super Smash Bros Game I've played. https://www.bilibili.com/video/BV1Q7411H7u7
If you have interest in the more Bilibili videos, here is a one that is pretty representative of how amazing bullet comments are. https://www.bilibili.com/video/BV1es411D7sW